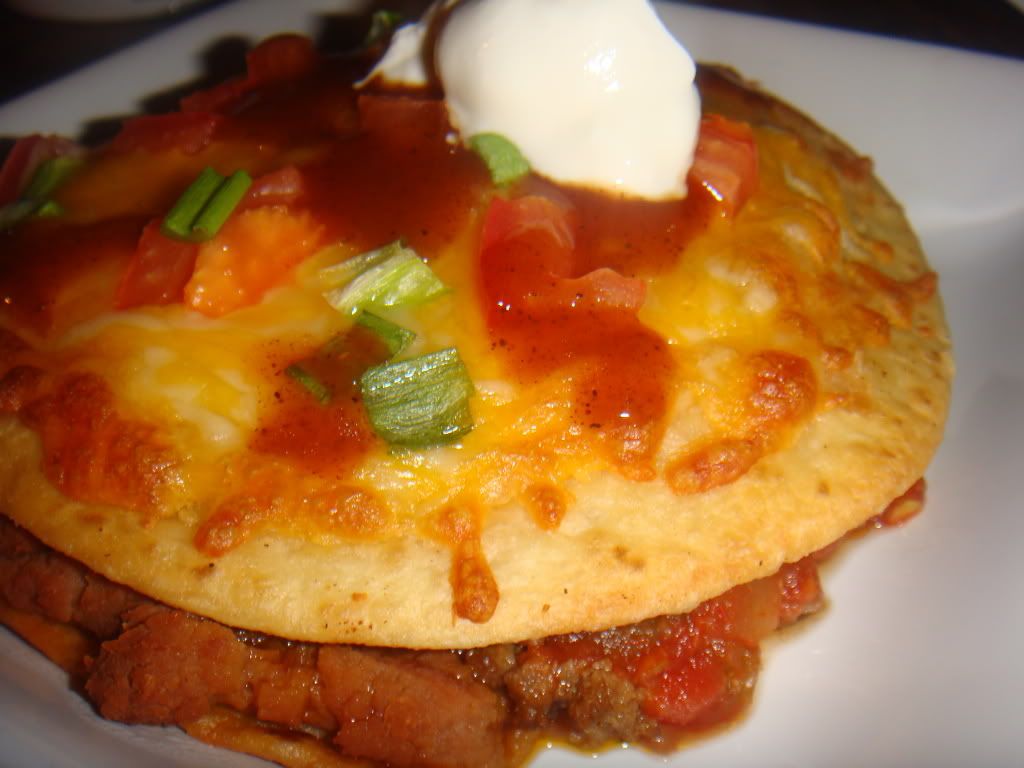 So, I've slacked. Slacked real hard. I haven't even turned my computer on until just now. Thank you Thanksgiving, you were incredible. Great family, food, and fun. The three f's that a person needs (guess there could be more). I had a wonderful mini vacation. Now, back to the real world and the blogosphere.
Anyleftoverturkeyandstuffing, I'm done with that holiday and moving on. And switching up the menu. No more cranberry sauce. Ick. I made these taco pizzas after finding them on
Pinterest
. That site is the Holy Grail for cooks and crafters. They taste a million times better than
Taco Bell's
taco pizza, and those are my fav. These are pretty easy to make and still taste yummy the next day as leftovers. Ba da ba ba ba, I'm lovin' it. Opps, wrong fast food slogan. O. Well. Still applies.
Taco Pizza
Ingredients:
1lb ground beef
1 package taco seasoning
8 small flour tortillas
2 tablespoons water
1 (16 ounce) can refried beans
Small jar of mild salsa
Colby jack cheese
1 tomato (diced)
green onion (chopped)
oil (for frying)
sour cream
taco sauce
-Mix together ground beef, taco seasoning, and water with your hands.
-Brown ground beef over medium heat until cooked thoroughly. I used the
Pampered Chef Mix 'N Chop
to break up the beef. That thing works wonders. I also put in some garlic powder and dried onion flakes. Set aside.
-Add oil into a frying pan. Heat to medium-high and fry tortillas one by one for 30 seconds (or until browned) on each side. Make sure to pop any bubbles that form while cooking. Remove from pan and drain on paper towels.
-Warm refried beans and pre-heat oven to 400 degrees. Place four tortillas on a greased baking sheet. I used a foil lined one and forgot to grease it. The bottoms got stuck.
-Add the refried beans onto the tortilla, then a layer of the beef, then a layer of salsa. Put another tortilla on top of the salsa. Put cheese, tomatoes, and green onions on top. Put in oven and bake for 8 minutes. Yum. I'm hungry. Again.