Gosh, the weather here. Two days ago it was 50 degrees, today 70, and right now it's pouring rain and cold. Then tomorrow SNOW is on the forecast. I have such a sinus headache from all this change. I'll probably get full blown sick. That's my pessimistic approach. Thanks Mother Nature. I'll just buckle up and let the chips fall where they may. My optimistic approach. Same. Same. The changing season calls for a change of purses. Here's what I chose and the junk that dwells in it.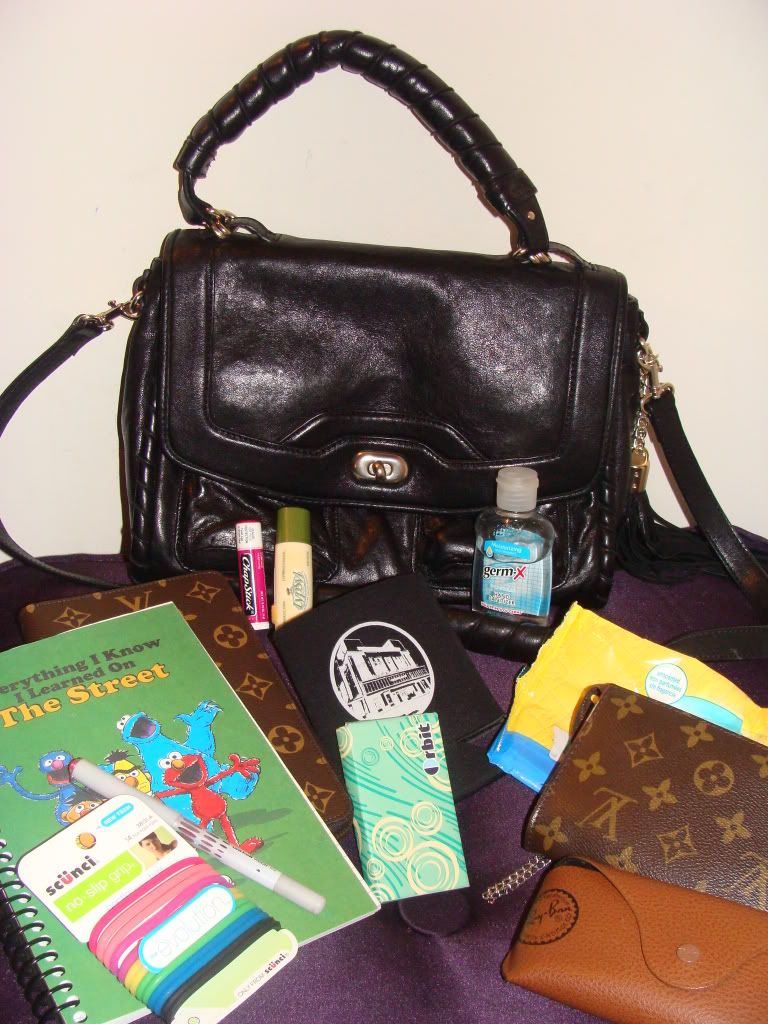 -
Chapstick
Cherry. I find these in the most random places.
-
Lypsyl
chapstick. Just got this stuff. It is made with pure beeswax. Hey-oh. It's very minty and smooth. I like it.
-
Germ-X
. You just never know when you want to fight off bacteria.
-
Pampers
Baby Wipes. I usually need them when they aren't with me.
-
Ray-Ban
sunglasses. Wayfarer. Classic
-
Orbit
Sweet Mint gum. Yum.
-
Scunci
Ouchless ponytail holders. Another newbie. They are jelly bands. Adore.
-
Uni-Ball
Vision fine point pink pen. I just think that color is the way to go when writing with flair.
-Random notebook I found cleaning my bedroom. True saying on the front cover.
-
Georgia Theatre
huggie. Some people call it a koozie. Coke, pop. Cart, buggy. It takes all to make the world go round.