I have been seeing these fuzzy things called
Spirit Hoods
on celebrities and my non celebrity friends (one day guys!) and, well, I dig em. They are faux fur "hoods" that have ear covers and continue down into a scarf, which have hand pockets at the very end. Why didn't I come up with this? Sheer Brilliance.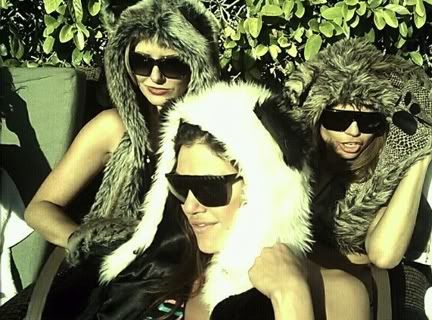 Being the fur lover that I am (sorry animals and, most importantly, PETA), I need a good fuzzy hat. I was browsing around
Walmart
yesterday and snagged one! By "browsing" I mean being forced to walk around in a zombie state of mind by Walmart's subliminal messages they pump through their intercom (leave me alone smiley face, I don't care about your rollbacks). Where is Target when I need it?! Somehow those messages got me down the hat aisle. And, boy, am I glad they did. I found this wolf animal hat, sans the scarf-mittens, for about $110 less. Ba da ba ba ba, I'm loving it. I can totes be happy with my way cheaper version. Hurry up chilly days. I am ready for my dances with the wolves close up. Rawr.